[English Below]
Ich dachte, ich schreibe diesen Beitrag mal auch auf Deutsch, da es sich ohnehin hauptsächlich um deutsche Produkte handelt, die ich für den Adventskalender benutzt habe und das daher für Leute aus Deutschland vermutlich doch relevanter ist.
Ich wollte gerne einen Adventskalender für meine Eltern füllen, was sich vegan doch gar nicht so einfach gestaltet, da die meisten kleinen Weihnachtssüßigkeiten von den gängigen Marken eher nicht vegan sind. Meine Eltern leben zwar nicht vegan, aber natürlich möchte ich mit meinem Geld dennoch ungern nicht-vegane Produkte unterstützen. Ich habe mich daher auf die Suche nach kleinen Dingen gemacht, mit denen ich meinen Kalender füllen kann. Es war wegen der kleinen Größe nicht so ganz leicht, aber ich bin fündig geworden.
Vorab hatte ich selbst schon mal online nach Ideen für vegane Adventskalender geschaut, aber leider doch nicht wirklich viel gefunden. Ich schreibe diesen Beitrag daher auch aus dem Grund, da vielleicht andere Leute vor dem gleichen Problem stehen und dankbar für ein paar Ideen sind.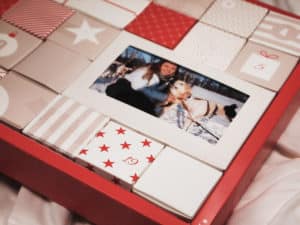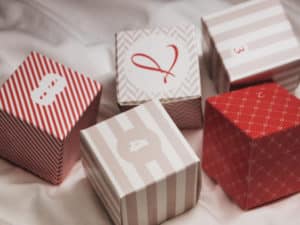 Hier also einfach mal eine kleine Liste von den Sachen, die den Weg in meinen Adventskalender gefunden haben. Ich habe bei manchen Sachen, die es nicht unbedingt überall gibt, noch dahinter geschrieben, wo ich sie gekauft habe:
Zuckerstangen (Müller)
Mon Chérie
Weihnachtstee
Weihnachtskerzen
Alnatura Mini-Lebkuchen von (DM)
Weiss Mini-Zartbitter-Schokolebkuchen (Müller)
Nimm2 Soft
Mini Mr Tom (Müller)
Lübecker Edelmarzipan
Marzipan-Figur (Müller)
Weinbrand-Fässchchen (Penny)
Dresdner Essenz Duftbad (DM)
Der DIY-Bastel-Fotokalender ist übrigens von www.fotokasten.de. Heutzutage findet man natürlich auch viele vegane Adventskalender, die schon befüllt sind, vor allem online, aber ich fülle sie lieber selber, da es mir Spaß macht und das doch auch viel persönlicher ist.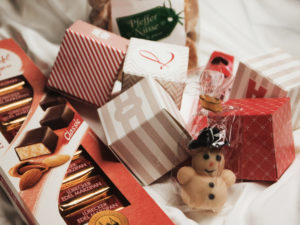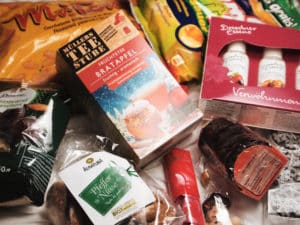 [English]
I wanted to fill an advent calendar for my parents which isn't that easy in vegan, I have to say, as most christmas candies from all the big brands are not vegan. My parents aren't vegan but of course, I don't want to support non-vegan products with my money anyway. So I went to look for little things which I could put into the calendar. It wasn't that easy to find small vegan things but in the end I was successful.
Beforehand I had already been searching online for vegan advent calendar ideas but couldn't find much. This is one reason why I'm writing this right now. I can imagine that other people have a similar problem and are thankful for a few ideas.
Most products I put into the advent calendar are only available in Germany, I guess, but maybe my post can give you some ideas and help you a little anyway. I'm sure you can find similar products in your country.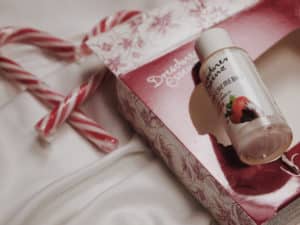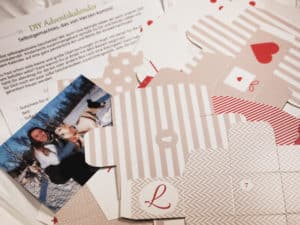 So here is a little list of things that found their way into my advent calendar:
Candy Canes
Mon Chérie
Christmas Tea
Christmas Candles
Mini Gingerbread
Mini Chocolate Gingerbread
Nimm2 Soft
Mini Mr Tom
Marzipan Chocolate
Marzipan Figure
Brandy-filled Chocolate
Dresdner Essenz Scented Bath
The DIY-Photocalendar is from www.fotokasten.de by the way. Of course, nowadays you can also find a lot of pre-filled vegan advent calendars, especially online, but I like to fill them myself. It's fun and so much more personal.