Last weekend I visited paris – finally! I always wanted to go there but somehow it never happend earlier. It was quite a spontaneous trip because at the moment my future is quite uncertain and I can't really plan anything for a long time ahead. I also don't have too much money for travelling right now. So I decided to make a short trip to Paris to visit my French roommate who shared a room with me during my semester in Sweden because I'm not sure if I'll have any other possibilities to go abroad this year and I just needed to get out if even just for a few days.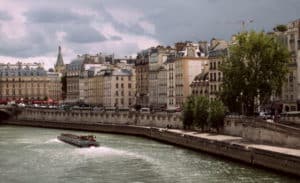 At first I wanted to take the plane from Stuttgart to Paris but then I found out that the TGV is so much cheaper. Furthermore the train stops at Gare de L'Est which is much closer to the center of Paris than the airport. Taking the car was not an option because you have to be suicidal to drive through Paris with your car. 😀 I booked a room via airbnb again (what else? 😉 ) and with the help of my French friend who knew better what to look for, I ended up in Belleville, a district of Paris which is quite close to the center. I was also really lucky with my host who helped me a lot and explained to me the best way to discover the city. He bought me a card for renting bikes at the bike stations which are everywhere in Paris. You can just take a bike, drive around and put it back in another station. It's less complicated and cheaper than the Métro and that way you also get to see more of the city. By the way, the Métro system may seem a little unfamiliar to strangers but everything is really well-signpostet and it's easy to find your way around.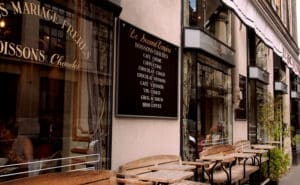 On my first day I just put all my stuff in my room after I'd arrived there, had a talk with the host and then left to discover the city right away with a bike. I saw some of the most famous places like the Notre-Dame, musée du Louvre and the fair at the Jardin des Tuileries. Of course those places were full of tourists. You have to see them anyway when visiting Paris! I didn't go inside the museum as it is quite expensive and there was such a long line of people waiting. As I only had one weekend in Paris I also didn't want to spend my time inside a museum. I rather explored some of the smaller streets in Paris without all the tourists as I'm always interested to see what a city or country is really like and how the people live there.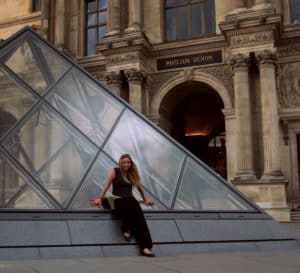 On my way back I had some trouble to find my way home and situations like this always makes me panic a little. But I finally made it home and this showed me again that there's nothing to worry about getting lost, even in a big city, as you always find your way home somehow. If you can't find it on your own you can just ask people for help. In the worst case you can always get a cab somewhere which will bring you back. Even though this might be very expensive this thought always calms me down. 😉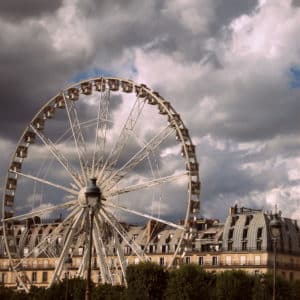 Of course I also had to eat something during my hours-long stay in the center. Before I came to Paris I thought it would be really hard to find something vegan there. I didn't even check before if there are any vegan places but actually there are quite a lot of vegan restaurants, cafés, bars,.. I found a great vegan burger restaurant called Hank Vegan Burger with the app Happy Cow which is great for finding vegan places near to whereever you are. It was also my first time ever in a completely vegan restaurant. I was surprised by how full it was! I wonder why that restaurant is so small, they definitely should get a bigger room. But the rents are also pretty high in Paris so maybe that's the reason.. My host also told me that veganism is gaining popularity recently in this land which is known for eating a lot of meat and cheese which made me very happy to hear. 🙂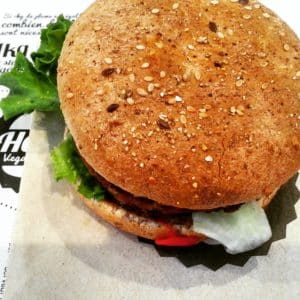 When I got back to my room I was really exhausted but my host invited me to meet some of his friends at a bar. So I went out despite my exhaustion as I wanted to make the most as possible of my stay in Paris. That night we had some wine and rum and some really interesting talks. Although we got soaking wet on our way back home because it was pouring down when we got out of the bar, it was totally worth joining them. It also rained hard during a short time when I was in the center in the afternoon so the only souvenir I brought back home with me is a cheesy pink umbrella with small Eiffeltowers on it – which I didn't take to the bar with me, of course. 😀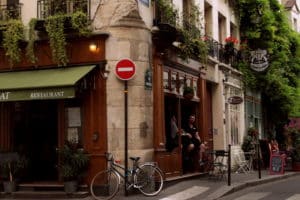 To be continued..