Pt. I here.
The next day I slept in as we got home so late and I wasn't meeting my ex-roommate at Champs-Élysées until lunchtime. When I got there it was so weird to see her after half a year because we spent several months together in one room before in Sweden and then suddenly didn't see each other anymore! It was really great though and we had to tell each other so many news about what happened in our lifes. She also brought 2 friends with her and first I worried if I'll be able to visit the places I wanted to this day as it is quite boring to see touristic places for locals. They didn't mind though and asked me where I wanted to go so we walked down Champs-Élysées to see Arc de Triomphe at the end of the street. When I saw the big traffic circle around it, I was happy one more time I didn't bring my car. 😀 After that we went to see Tour Eiffel – finally! It's amazing to get to see a place about which you've read so much about and have seen it in so many movies. It's strange but when I was younger I always thought it wasn't that big. Then I read a book about how it was built and was quite surprised that there is a really big place underneath the tower. When I saw it in reality I was even more impressed. I knew it was big but that huge? Wow! I didn't go up the tower for the same reasons I didn't visit the Louvre museum..
My friend and her friends said goodbye there as they wanted to go home to shower and dress for the evening. I stayed in this area of the city a little longer. When I got hungry I really had some struggle this time to find something vegan. I couldn't even find any normal supermarket and when I finally found one it was a really small and expensive one so I just bought a baguette and some peaches. As hungry as I was I ended up to eat the whole baguette which was also okay to satisfy my hunger. 😀 My friend asked me if I wanted to join them for the evening but I was unsure and ended up going out with my host again as my friend told me later anyway that they eventually decided not to go out at all.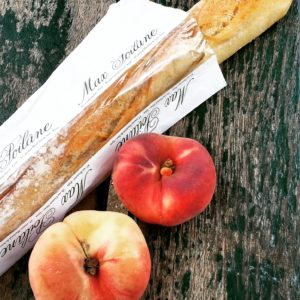 This time we went to a famous street in the area Bastille where there are only bars. It was great for me to see where the Parisians spent their nights. We met some of my host's friends again and spent the night like the one before – with some drinks and great talks. It was a looong night again and we had to walk back home as there was no Métro anymore. This surprised me as I thought you can take the Métro 24/7. At least we didn't get wet this time..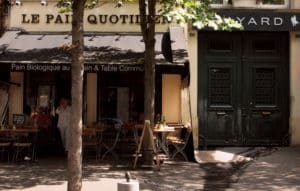 The next morning I was really tired (as during my whole trip.. 😉 ). I had a date for brunch with my friend though so I got up on time, of course. Surprisingly another French fellow student from my semester abroad was also in Paris for the weekend and joined us which made me really happy as I also spent a lot of time with him in Sweden. The brunch was quite expensive and at a non-vegan place. I worried that I'd fling away my money as I thought there would be almost nothing for me to eat anyway. I didn't want to cause trouble though as the others made the effort to find a place to brunch. My worries were unfounded as they had quite a lot of vegan options and though I normally wouldn't spend so much money on a brunch it was worth it for socialising with my friends.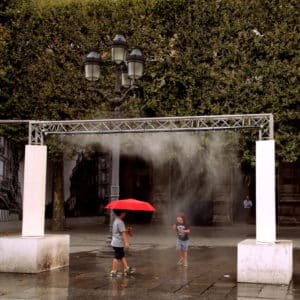 After the brunch I finally said goodbye to my ex-roommate but spent some more time in the city with my other French friend. We went to Sacré-Cœur de Montmartre where we had a wonderful view over Paris and after had a beer outside at a lovely bar. It felt really good to talk to him again and to reminisce about our experiences in Sweden.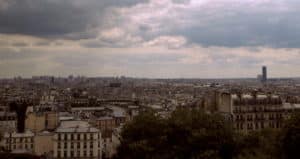 This evening when I got home I didn't go out, this would have been to much especially before my train ride back home the next day. Instead I went to Parc des Buttes-Chaumont, a beautiful park which my host recommended to me. Though there were quite a lot of people (lots of runners.. if only my feet hadn't been so sore! 😉 ) the atmosphere there was really peaceful and it felt good to calm down a little after spending so much time in the busy and noisy city.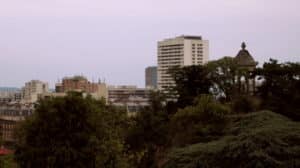 While I fell in love with Paris right away, this trip made me realise again that I'm just no city-person. I could imagine living in a big city for some time but I think I'd never be able to live there all my life. It always feels good to get back to a rural and calmer area again.