The end of the year has almost come.. time to take a look back.
2017 has been so different from what I thought it would be. At the end of 2016 I thought this new year is going to be MY year. That I would quit my job, spend the winter outside of Germany and so much more.
But well, not really.. in fact, 2017 hasn't been much different from 2016 and quite uneventful. No big changes happened – no travels, no new job, no new relationship,..
Anyway, I think every year shapes you and your life in a certain way. You fail, you succeed, you make mistakes, you cry, you laugh, people come into your life, people leave your life.. nothing of this goes by without affecting you, teaching you and helping you to grow as a person.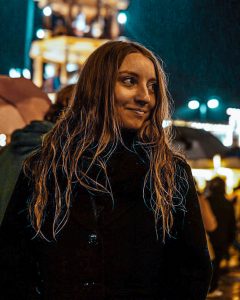 So here we go.. went through my annual planner and found 10 things worth to remember from 2017:
New Year's Day: One of the first in years without being hung-over as I didn't go out the night before but stayed at home all by myself. I got up at 7 and went for a morning run. The streets were pretty much empty and it felt amazing to start the new year in such a healthy way. I felt like being one step ahead of all the people still sleeping after a long alcoholic night (ok, not all people.. you get, what I mean).
I took part in my first online congress. The congress was about health related topics and I got interviewed about my experiences with veganism. At first I felt so nervous but after the interview I was so happy that I got out of my comfort zone and took this chance to grow.
After my first 3-day juice fast in 2016 I went on a second 5-day fast this year in November which definitely has been a challenge. You can read about my experience here on the blog.
This year I went to 3 big Instagram meetups in different big cities and also to some other smaller meetups. There I met people who I've only know from social media so far – or not at all and who I just got to know by going there. I'm still so grateful for all the connections I've made, all the friendships I've built. A lot of people talk about social media in a negative way and while it definitely has it's downsides, I wouldn't know so many of the wonderful people that I'm lucky to have in my life today.
Not only meeting people I only got to know this year is worth to remember but also all the little reunions with people who I've known for years and who always make my heart smile, no matter how long we haven't seen each other.
I got invited to my first event ever, the "One World Festival" held by the company Rapunzel, one of my favourite food brands. It has been a completely new experience for me to get invited somewhere as a Blogger/Instagrammer. I had the best time at the festival, learnt a lot and again got the chance to connect with wonderful and inspiring people.
In September I bought the meditation app called "Calm" and since that time I've been meditating almost daily. I think I only missed around 5 days since I bought this app. If you're not into meditation yet, I can only recommend you to start with it, it made me feel so much calmer and more at piece with what's happening around me. Meditation really is such a gamechanger for your life.
In November I went to my first classical concert ever and it has been a magical experience. I already wanted to go to the "Klassik Radio Live in Concert" concert series the year before but couldn't afford it. This time my parents got me a ticket for my birthday and it still makes me happy to think back to all the wonderful movie soundtracks I got the chance to hear played live.
This year – after wanting a nose-piercing for probably 10 years – I made the spontaneous decision to finally get it done, together with 3 new ear piercings. No regrets.
And last but not least I finally quit my office job this month after over 2 years of working at this company. This definitely hasn't been easy for me as it is always so hard for me to let go of situations that make me feel secure. However, it has also been a relief to finally quit and the only right thing to do as I just can't hold on anymore to something that leaves me feeling so unhappy and unfulfilled.
So this is the current situation I'm in right now. Just a step away from 2018, jobless by the end of March and open for anything the new year brings.. whatever this may be.
Following blogpost about my resolutions for 2018 coming soon.. <3