Did you know that Disney's Sleeping Beauty castle was inspired by Neuschwanstein Castle? <3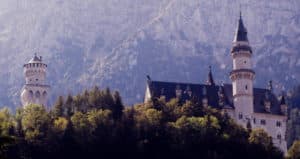 Actually the castle always reminds me more of Disney's Beauty and the Beast and some sources say it also was the inspiration for this. I'm not sure what's true. Anyway.. since I'd known about this I always wanted to visit this castle in Bavaria. It's been some years since I visited this place together with my boyfriend but I remember this trip pretty well because it wasn't trouble-free.. As usually we booked a room via airbnb and we were told that it's okay if we arrive later in the evening. As we got stuck in a traffic jam we got to our accommodation quite late. We ringed the bell and called our host on the phone but noone opened and we couldn't reach her. I have to admit this upset me a little as she told us it's okay to arrive late. We were really tired and just wanted to take a shower and have a good sleep so that we could get up early and be fit for our hike the next day. In the end there was no other possibility than to sleep in the car though. At least we could see the castle from where we parked..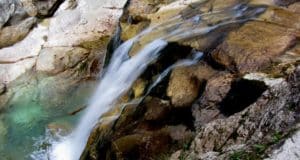 Really tired and not in a good state for a long hike we got out of the car the next morning. At least we could get into our room, take a shower and have breakfast. After this we started our hike to the castle. The trouble didn't end here for me though as the hiking shoes I got from my mother started to fall apart. Actually it was quite funny when I thought I walked into tar until I realised that the black stuff came from the soles of my shoes which looked like they were meltig. 😀 The shoes were quite old and had not been used in a long time. There was no other option for me than to walk with these soles that got thinner and thinner. The way to the castle was wonderful anyway. We came by some beautiful small and big waterfalls, rocks and rock art. The water was so clear! The hike was so much fun because it wasn't just a plain path, there were some iron planks and steps to get across the rocks.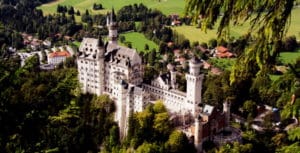 We always try to avoid the paths that are full of tourists but in this case it wasn't really possible and when we arrived on the top everything was full of tourists, of course, mostly Japanese. 😉 I have to admit that down at our car I was a little disappointed by the castle because on photos it always looked as if it was miles away from anywhere and on a much higher position when in fact it's not that far away from the town and not located very high. The beauty of this romantic architecture is absolutely beautiful anyway of course! Though there were lots of tourists and you had to pay to get into the castle we paid for it and got a guided tour. The guide told us something about the castle's history which is quite interesting. Noone actually lived there and it never got completely finished as Ludwig II who ordered to build the castle couldn't pay for it anymore, had to raise high credits and most probably commited suicide. After this the castle was made open to the public to pay off the debts. There also is another beautiful castle near to Neuschwanstein which deserves some attention as well, I think: Hohenschwangau Castle, the family home of Ludwig II.

After seeing the inside of the castle we we went on the Marienbrücke, a bridge which stretches over a canyon and is the place to be for taking a good photo of Neuschwanstein. 😉 We didn't stay too long in that crowded area around the castle. When we arrived back down we went for a quick swim in a lake. It already was the middle of September and I remeber that it wasn't too warm anymore and that the water was icy cold. But as the beautiful clear water was just so tempting, we went into it anyway. Though this trip was not trouble-free, it was totally worth it and it showed me once again that you can also find wonderful places in your homeland, not just somewhere far away.