It's the weekend – time for a yummie chocolatey treat! <3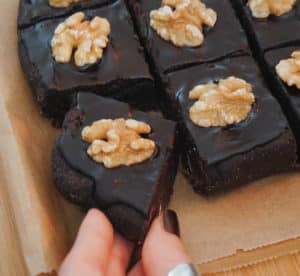 I usually don't really create recipes like this one but I thought I'd just give it a go. I know that in general the basic ingredient for raw brownies is dates.. or well, at least I think so. Correct me if I'm wrong. So I played it safe and didn't go crazy with this recipe. I never use complicated recipes myself as I'm way too lazy for those, so why would I make something complicated myself anyway?
You will need..
Brownies
300g dates
200g grounded almonds
3 tbsp cacao powder
1/2 tsp salt
Topping
3tbsp cacao powder
1tbsp corn starch
4tbsp maply syrup
some water
walnuts
To make the brownies you can use a blender or hand blender. As I currently don't have a hand blender and my normal blender doesn't really work good for this kind of recipe, I didn't use any and it worked quite well. Of course the dough doesn't get as smooth as when with a blender but this doesn't bother me at all.
Tip: Let your dates soak in water overnight so that they get really soft. This makes it way easier to process them, especially if you're not using a blender.
 Knead together all the ingredients or use the blender. To get the typical square form, I spread the mixture in a baking tin and afterwards pulled it out again. You don't have to do this, of course, if you're able to achieve a nice form with your hands alone.
For the topping simply mix the cacao, starch and maple syrup. Add as much water as needed to get a smooth but not too liquid chocolate sauce. The sauce should be easy to spread on the brownies but shouldn't run down. Spread your chocolate sauce on your brownie square, add walnuts on top and then put your square in the fridge for at least a few hours. Once the brownie mass and the topping are solid, you can cut your brownie square into small pieces.
Enjoy! <3