[Enthält Werbung/Contains Advertising]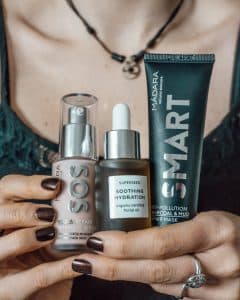 I got 3 skincare products from Mádara to try and I can happily say that I love them all.
All of these products are vegan & cruelty-free. So grateful for companies offering cruelty-free products like these because nothing justifies animal testing for beauty products.
So let's start:
SOS HYDRA REPAIR INTENSIVE SERUM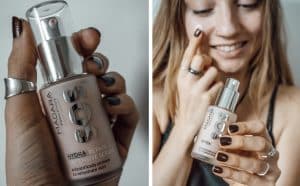 This repair serum is helpful for increasing the dermal water reservoirs of your skin and to protect it from free radical damage. You can apply it in the morning and/or evenings. Personally I'm using it in the morning and evening right now. This beautiful rose-colored serum smells absolutely wonderful, just like roses. (click for shop & more info)
SOOTHING HYDRATION ORGANIC FACIAL OIL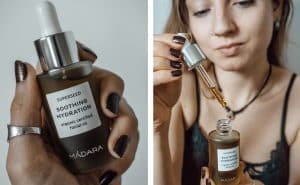 This is probably my favourite product of the 3 I got. It's an elixir of 8 unique nutrifying dry oils from rare arctic berry seeds, fruits and green vegetables. These oils improve the skin's hydration, elasticity and comfort. It actually smells like a delicious green healthy smoothie and it feels wonderful on your skin. If I put this oil on my face in the evening, my face feels super soft the next day. I have been a little sceptical at first as I have a rather oily t-zone and feared that putting oil on my skin would make it even more oily and prone to pimples but no – if anything, my skin became clearer. You can use the oil on it's own or add a few drops to your usual moisturizer. I prefer to combine it with my day cream in the morning and use it on it's own in the evening. (click for shop & more info)
SMART ANTI-POLLUTION CHARCOAL&MUD REPAIR MASK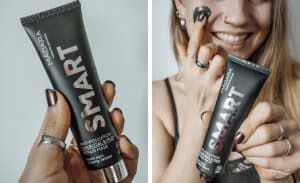 I love face masks and I always wanted to have a black one! Your face just always feels so good after a face mask and it's just such a wonderful self-care ritual to take the time to put a mask on your face. So this mask is black because it contains antioxidant-rich Black Northern Mud and Charcoal. The mask contains age-correcting vitamin A, skin-perfecting vitamin B3 (niacin), 17 amino acids and essential minerals to reduce first signs of ageing and recharge the skin with energy. You're supposed to use this mask 2-3 times a week and leave it on your face for 5-10 minutes. By the way, this mask is very easy to wash off again which is perfect because I don't like these face masks which take too long to properly wash off again, I'm always too lazy for that. (click for shop & more info)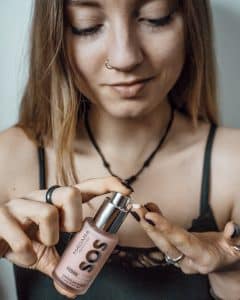 After using these products for a while now, I can highly recommend them to you. They are just perfect if you want to take care of your skin with high-quality products and at the same time prefer organic and vegan skincare products.
To be completely honest with you: So far I mostly used skincare products from the local drugstore. I didn't expect it to make such a huge difference to use high-quality organic skincare, seems I was wrong. My skin feels so much softer than it usually does, especially now that it's winter and the skin struggles with the cold air and heating air so much.