Last year I went to Elbe Sandstone Mountains for two days with my boyfriend. You can see them in Germany but also in the Czech Republic. My boyfriend had already been to the German side (Saxon Switzerland)on his own already and wanted me to see them as well because they're really beautiful. He wanted to go to the region in the Czech Republic (Bohemian Switzerland) this time and as I'm always happy to leave Germany, I agreed.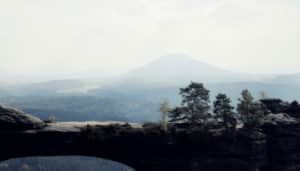 Like usual we found a room through airbnb. We had a little trouble to find it though as the battery of our mobile phones got empty just when we almost had arrived at our accomodation with the car. We were stuck in a small village and noone could help us as noone understood English there. Already quite desperate, I decided to go into a restaurant to ask for a socket to charge my phone. Of course noone understood me there either but I used my skilled sign language.. 😀 It worked and we could finally get to our accomodation which was actually just a few houses away. You can always find your way somehow even when you don't talk the language of the country you're visiting.
After we checked in and talked with the owners a little, we decided to walk a few kilometers through the forest to get to a restaurant and eat there. The forest was absolutely beautiful with huge trees and rocks. When we arrived we had an amazing few over a valley. The restaurant was really great as well, mainly because of the cheap Czech prices. We happily took advantage of them and ate a lot, maybe a little too much. 😀 I could imagine how hard it must have been for my Czech fellow students in my year abroad in Sweden. It was already expensive for me as a German but the difference between the Czech and Swedish currency is so much higher. The cheap Czech prices also were another reason why we booked an accomodation in the Czech Republic and not in Germany.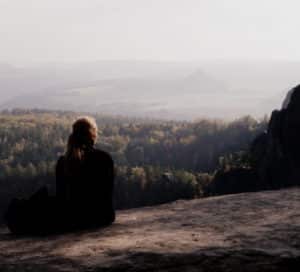 The next day we got up early to go on a big hiking trip. Again, we got a little lost on our way as we wanted to avoid the touristic trails. It's just so much better to enjoy the nature without a lot of tourists around you. Consequence was that we had to go straight through the forest at some point but this happens so often when I'm on the way with my boyfriend, so I'm used to it. 😀 When we reached our target Pravčická Brána, Europe's largest natural stone bridge, it was full of tourists of course. As the landscape in this region wasn't too interesting to be honest, we decided to just eat something at the restaurant ad hurry to get down and then get up again at the German side. It was still quite early in the day so we had enough time left and my boyfriend was quite disappointed by the Czech side of this mountain region and wanted me to see the beautiful places he'd been to the last time.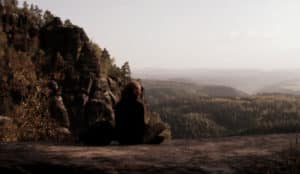 I'm really happy we decided to go to the German side as the mountain landscape there was absolutely breathtaking. It was also quite dangerous at some points and we had to hold on to some ropes that were attached to the rocks. My boyfriend was constantly worried for me to fall down and I have to admit I'm scared of heights a little. I always get really dizzy and shaky when looking down from a high, narrow and unsteady underground. We stayed up in the mountains until the evening to watch the sunset. It was already getting dark when we went down and it was a little dangerous but it was absolutely worth it to stay up there until the sun was gone.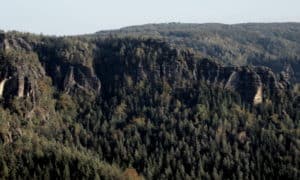 The next day we got up early again to make a stop at the Bridged Bastion of Saxony very early in the morning on our way back home. Again we had a wonderful view over the valley there and fortunately at this early time there hadn't been lots of tourits. We could enjoy the calmness there and make some beautiful photos without tourists spoiling them. 😉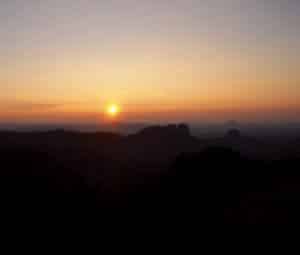 This is one reason why I like travelling by car: You can stop whenever and whereever you want to. Unfortunalety you can't go too far with a car. I think my trip to Sweden had been the longest I ever made with my car and it's quite uncomfortable and tiring to drive that long. I can only recommend to have a rental car in the country you visit if you want to explore lots of places as bkes and public transport aren't always sufficient for this.