Just a short post about Austria because in my opinion, Austria is such an underrated country. When I was younger and still went on vacation with my parents, I visited almost every corner of Austria as this was the only country where my parents wanted to go. I also went to Italy and Spain with them once but this was when I was reeeally young. And even later I've been to Austria almost every year for a few days.
Although I think it's quite boring to go on holidays in the same country every year when there are so many great countries out there, I'm quite thankful for travelling there as I learned to appreciate hiking and the beauty of mountains and mountain lakes. Like I said in another post before, many people value beaches, the ocean, hot weather,.. and I also love it but it's a little sad the mountain landscapes are left behind a little.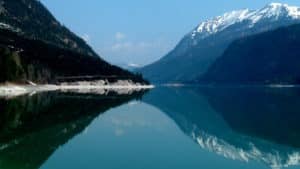 Austria not only has beautiful landscapes but also beautiful cities like Salzburg for example. Funny thing is I've never been to Vienna so far although I've spent so much time in Austria.. maybe I'll go there one day, too, seems to be a wonderful city.
Austria to me is like Germany and not quite like a foreign country. I always call it a more beautiful Germany (you may disagree, just my impression 😉 ) as it has more mountains and more lakes. Plus the lakes and rivers are so much clearer and bluer in our neighbour country. This is why I always recommend people who want to visit Germany to go to Austria or Switzerland instead as it's pretty similar anyway. 😀